Ambassade du Pakistan en France
Service Presse
Communiqué de Presse
Le Pakistan et la France approfondissent leur coopération dans le secteur de l'enseignement supérieur
Paris, le 20 juin 2018.
"La " Journée du Pakistan ", une initiative conjointe de l'enseignement supérieur pakistanais (HEC) et de son homologue français Campus France, s'est tenue aujourd'hui à Paris. Il s'agit du troisième événement de ce type, qui vise à approfondir la coopération entre le Pakistan et la France dans le domaine de l'enseignement supérieur.
Dans son discours lors de la cérémonie d'ouverture, Dr. Arshad Ali, directeur exécutif de la HEC, s'est félicité de la coopération continue entre la HEC et Campus France, a déclaré que la HEC envoyait des chercheurs pakistanais dans les principales universités françaises pour des programmes d'études de Maîtrise et de doctorat. Dans le cadre d'un programme spécial "Baloutchistan", les étudiants méritants du Baloutchistan ont également la possibilité de suivre des études supérieures à l'étranger.
Thierry Valentin, directeur exécutif de Campus France dans son allocution a rappelé la visite d'une délégation composée de 20 membres représentant des universités françaises au Pakistan l'année dernière. Il a dit qu'il espérait que l'échange continu de délégations dans le domaine de l'enseignement supérieur renforcerait la coopération entre les deux pays dans le secteur de l'enseignement supérieur.
Marc Barety, Ambassadeur de France au Pakistan et M. Amjad Aziz Qazi, Chargé d'affaires du Pakistan, ont également pris la parole à cette occasion, exprimant le plein appui des deux gouvernements pour le renforcement de la coopération dans le domaine de l'éducation.
Auparavant, l'Ambassadeur du Pakistan en France, M. Moin ul Haque a organisé un dîner pour la délégation de la HEC à Paris le 18 juin 2018, en présence de hauts fonctionnaires et d'universitaires français.
La cérémonie d'ouverture s'est déroulée en présence de représentants des établissements d'enseignement supérieur français, du ministère de l'Enseignement supérieur, du ministère des Affaires étrangères et des médias. Arshad dirige une délégation de 14 membres représentant treize universités pakistanaises de premier plan pour une visite d'une semaine en France. Pendant leur séjour, la délégation se rendra à Paris, Lyon et Grenoble pour explorer les moyens de renforcer la coopération bilatérale dans le secteur de l'enseignement supérieur.
پاکستان اور فرانس اعلی تعلیم کے فروغ کیلئے کوشاں 
پیرس20 جون:2018 'پاکستان ڈے'  کے حوالے سے ہائر ایجوکیش آف پاکستان اور ان کے فرانسیسی ہم منصب کی جانب سے فرانس کیمپس کی افتتاحی تقریب آج پیرس میں منعقد ہوئی۔ اس قسم کی یہ تیسری تقریب ہے جس کا مقصداعلی تعلیمی تعاون کو پاکستان اور فرانس کے درمیان فروغ دینا ہے۔ 
ڈاکٹر ارشاد علی ایگزیگٹیو ڈائریکٹر ہائر ایجوکیشن نے افتتاحی تقریب سے اظہار خیالات کرتے ہوئے کہا کہ وہ ہائر ایجوکیش اور فرانس کیمپس کی موجودہ کاوشوں سے مطمئن ہیں اور انہوں نے کہا کہ وہ پاکستانی سکالرز کو فرانس کی اعلی یونیورسٹیوں میں ماسٹرز اور ڈاکٹریٹ کی ڈگریوں کے پروگرام میں بھیجیں گے۔ انہوں نے مزید کہا کہ ایک خصوصی 'بلوچستان پروگرام' کے تحت بلوچستان کے مستحق طالبعلموں کو بھی بیرون ملک اعلی تعلیم حاصل کرنے کے مواقعے فراہم کر رہے ہیں۔ 
جناب تھیری ویلینٹن ایگزیگٹیو ڈائریکٹر کیمپس فرانس نے اپنے خیالات کا اظہار کرتے ہوئے گزشتہ سال 20 رکنی فرانسیسی یونیورسٹیوں کے وفد کے دورہ پاکستان کا ذکر کرتے ہوئے امید ظاہر کی کہ اسی طرح اعلی تعلیمی وفود کے مسلسل تبادلوں سے دونوں ممالک کے درمیان اعلی تعلیمی شعبوں میں تعاون کو فروغ ملے گا۔ 
جناب مارک بیتنے فرانسیسی سفیر برائے پاکستان اور جناب امجد عزیز قاضی چارج ڈی افیئرسفارت خانہ پاکستان برائے فرانس نے اس موقع پر اپنے اپنے خیالات کا اظہار کرتے ہوئے کہا کہ انہیں تعلیمی شعبوں میں تعاون کو مزید فروغ دینے کیلئے دونوں ممالک کی  حکومتوں کی مکمل حمایت حاصل ہے۔ 
اس سے قبل سفیر پاکستان برائے فرانس جناب معین الحق نے ہائر ایجوکیشن کمیشن کے وفد کے اعزاز میں 18 جون 2018 کو پیرس میں رات کے کھانے پر مدعوع کیا تھا جس میں فرانس کے اعلی سرکاری افسران اور سکالرز نے شرکت کی۔ 
اس افتتاحی تقریب میں فرانسیسی اعلی تعلیمی ادارے، وزرات تعلیم، وزارت خارجہ کے نمائندوں اور صحافیوں کی بڑی تعداد نے شرکت کی۔ 
ڈاکٹر ارشاد کی سربراہی میں پاکستان کی تیرہ اعلی یونیورسٹیوں کا چودہ رکنی وفد فرانس کے ایک ہفتہ کے دورے پر ہے۔ یہ وفد فرانس میں اپنے قیام کے دوران پیرس، لیوں اور گغنوبل کا بھی دورہ کرے گا تاکہ اعلی تعلیمی شعبے میں
باہمی تعاون کو مزید بڑھایا جاسکے۔ 
EMBASSY OF PAKISTAN TO FRANCE
PRESS SECTION
PRESS RELEASE
Pakistan and France deepen cooperation in the Higher Education sector
Paris 20thJune, 2018. "Pakistan Day" a joint initiative of Higher Education of Pakistan (HEC) and its French counterpart campus France, was held in Paris today. This is the third event of its kind, which is aimed at deepening cooperation in higher education between Pakistan and France.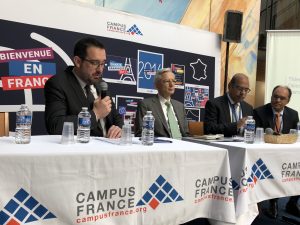 Addressing the opening ceremony, Dr. Arshad Ali, the Executive Director of HEC while expressing satisfaction on on-going cooperation between HEC and campus France said that HEC was sending Pakistani scholars to leading French universities for Master's and Doctorate degree programs. Under a special "Balochistan program", deserving students of Balochistan are also being provided opportunities to receive higher education abroad.
Thierry Valentin, Executive Director of Campus France in his address recalled the visit of a 20-memebr delegation of France universities to Pakistan last year. He hoped that the continuous exchange of delegations in the field of higher education will further cement cooperation between the two countries in the higher education sector.
Mr. Marc Barety, Ambassador of France to Pakistan and Mr. Amjad Aziz Qazi, Charge d'Affairs of Pakistan also spoke on the occasion expressing full support of the two governments for strengthening cooperation in the field of education.
Earlier, the Ambassador of Pakistan to France Mr. Moin ul Haque hosted a dinner for the HEC's delegation in Paris on 18thJune, 2018, which also attended by senior French officials and scholars.
The opening ceremony was attended by representatives of French higher education institution, Ministry of Higher Education, Ministry of Foreign Affairs and media.
Dr. Arshad is leading a 14-member delegation of thirteen top universities of Pakistan for a week-long visit to France. During their stay, the delegation will visit Paris, Lyon and Grenoble to explore ways and means to further cement bilateral cooperation in the higher education sector.
________