Embassy of Pakistan to France
Paris Section
PRESS RELEASE
Thousands attended the third edition of Grand Pakistan Festival held near Paris
Paris September 29, 2019. The third edition of mega Pakistan Festival was held in Sarcelles, a city in the suburbs of Paris today. This year's event was specially dedicated to express solidarity with the oppressed people of Indian Occupied Jammu and Kashmir.
The Festival was jointly inaugurated by the Ambassador Mr. Moin ul Haque, member of French parliament Mr. Francois Pupponi and Mayor of Sarcelles Mr. Patrick Haddad.
Thousands of people from various walks of life including local French politicians and officials, diplomats, members of French Civil Society, media persons and expatriate Pakistanis attended the festival.
While addressing the inaugural ceremony, Ambassador thanked Management committee of the Pakistani Festival for successful organization of the festival. The Ambassador also praised the community's efforts in strongly advocating the cause of Kashmiris in France. He reiterated Pakistan's resolve to extend political, moral and diplomatic support to the people of Kashmir.
Mr. Francoise Pupponi and Mr. Patrick Haddad also spoke on the occasion. They thanked the Pakistani community for organizing this festival and termed it as a valuable addition in the cultural landscape of France which had provided the French public a rare chance to experience a mini Pakistan in France.
Earlier, the young children song patriotic songs and many speeches were made in solidarity with the people of Kashmir. The speakers called upon the international community to play its role to find a lasting solution to the decade old issue as per resolutions of the UNSC and aspiration of the Kashmiris people.
Number of stalls offering authentic Pakistani food, products and traditional souvenirs also attracted interest of the visitors.
Mr. Sahir Ali Bagha, and Ms. Shagufta Awan, the Pakistani famous singers who were specially flown from Pakistan for the festival enlightened the evening with heartwarming patriotic songs, sufi music and their famous numbers.
سفارت خانہ پاکستان، پیرس
پریس سیکشن
پریس ریلیز
پیرس کے نواحی شہر سارسل میں پاکستانی میلے کے تیسرے ایڈیشن میں ہزاروں افراد کی شرکت
پیرس 29 ستمبر:2019 پاکستانی میلے کا تیسرا ایڈیشن پیرس کے نواحی شہر سارسل میں آج منعقد کیا گیا۔ اس سال یہ پاکستانی میلہ مقبوضہ جموں و کشمیر کے مظلوم عوام کے ساتھ اظہار یکجہتی کے طور پر منایا گیا۔
اس میلے کا افتتاح جناب معین الحق سفیر پاکستان برائے فرانس، فرانسیسی پارلیمنٹ کے رکن جناب فرانکوائس پپونی اور سارسل کے میئر جناب پیٹرک ہداد نے مشترکہ طور پر کیا۔
اس میلے میں مختلف شعبہ ہائے زندگی سے تعلق رکھنے والے ہزارووں افراد کے علاوہ مقامی فرانسیسی سیاستدانوں، فرانسیسی اعلی عہدیداروں، سفارتکاروں، فرانسیسی سول سوسائیٹی کے اراکین اور صحافیوں کی بڑی تعداد نے شرکت کی۔
اس میلے کی افتتاحی تقریب سے خطاب کرتے ہوئے سفیر پاکستان نے میلے کو کامیابی سے ہمکنار کرنے پر پاکستانی میلے کی انتظامیہ کا شکریہ ادا کیا اور فرانس میں مسئلہ کشمیر کو بھرپور انداز سے اجاگر کرنے پر پاکستانی کمیونٹی کی تعریف بھی کی۔ انہوں نے کشمیری عوام کے ساتھ پاکستان کی سیاسی، اخلاقی اور سفارتی مدد جاری رکھنے کا بھی اعادہ کیا۔
اس موقع پر جناب فرانکوائس پپونی اور جناب پیٹرک ہداد نے بھی خطاب کیا اور اس میلے کے انعقاد کرنے پر پاکستانی کمیونٹی کا شکریہ ادا کیا اور اسے فرانسیسی ثقافتی پس منظر میں ایک قابل قدر اضافہ قرار دیتے ہوئے کہا کہ اس سے فرانسیسی عوام کو فرانس میں ایک چھوٹا پاکستان دیکھنے کا نادر موقع فراہم ہوا ہے۔
انہوں نے مقبوضہ جموں و کشمیر کے عوام پر ہونے والے ظلم و ستم پر اپنی گہری تشویش کا اظہار کیا جو گزشتہ آٹھ ہفتوں سے شدیدغیر انسانی کرفیو کی زد میں ہیں۔
بعد ازاں، نوجوان بچوں نے حب الوطنی کے گیت گائے اور کشمیری عوام سے اظہار یکجہتی کیلئے بہت سی تقریریں بھی کی گئیں جن میں مقررین نے بین الاقوامی برادری سے مطالبہ کیا کہ وہ اقوام متحدہ کی سکیورٹی کونسل کی قراردادوں اور کشمیری عوام کی امنگوں کے مطابق دہائیوں پرانے مسئلہ کشمیر کا مستقل حل تلاش کرنے میں اپنا بھرپور کردار ادا کریں۔
اس موقع پر پاکستانی روائیتی کھانوں، مصنوعات اور روائیتی تحائف کے متعدد سٹالز بھی لگائے گئے تھے جو میلے میں آئے ہوئے مہمانوں کی توجہ کا مرکز بنے رہے۔
اس میلے میں پاکستان کے معروف گلوکار جناب ساحر علی بگا اور محترمہ شگفتہ اعوان کو خصوصی طور پر پاکستان سے مدعو کیا گیا تھا جن کے حب الوطنی کے گیتوں، صوفی موسیقی اور ان کے اپنے مشہور گیتوں نے اس شام کو چار چاند لگا دیئے۔
Ambassade du Pakistan en France
Service Presse
Communiqué de presse
Des milliers de personnes ont assisté à la 3ème édition du Grand Pakistan Festival qui s'est tenu près de Paris
Paris, le 29 septembre 2019
La troisième édition du méga Festival du Pakistan s'est tenue aujourd'hui à Sarcelles, en banlieue parisienne. Cette année, l'événement a été spécialement consacré à l'expression de la solidarité avec le peuple opprimé du Jammu-et-Cachemire occupé par l'Inde.
Le Festival a été inauguré conjointement par l'Ambassadeur M. Moin ul Haque, le député français M. François Pupponi et le Maire de Sarcelles M. Patrick Haddad.
Des milliers de personnes de divers horizons, y compris des politiciens français et fonctionnaires locaux, des diplomates, des membres de la société civile française, des représentants des médias et des Pakistanais expatriés, ont assisté au festival.
Dans son discours à la cérémonie inaugurale, l'Ambassadeur a remercié le Comité de gestion du festival pakistanais d'avoir organisé l'événement avec tant de succès. L'ambassadeur a également salué les efforts de la communauté pour défendre fermement la cause des Cachemiris en France. Il a réitéré la détermination du Pakistan à apporter son soutien politique, moral et diplomatique au peuple du Cachemire.Françoise Pupponi et M. Patrick Haddad ont également pris la parole à cette occasion. Ils ont remercié la communauté pakistanaise d'avoir organisé ce festival et l'ont qualifié d'ajout précieux dans le paysage culturel de la France, qui avait donné au public français une chance rare de découvrir un mini Pakistan en France.
Auparavant, de jeunes enfants ont présenté des chants patriotiques et de nombreux discours ont été prononcés en solidarité avec le peuple du Cachemire. Les orateurs ont appelé la communauté internationale à jouer son rôle pour trouver une solution durable à cette question vieille de plusieurs décennies, conformément aux résolutions du Conseil de sécurité des Nations Unies et aux aspirations du peuple cachemiri.
De nombreux stands offrant de la nourriture traditionnelle, des produits pakistanais et des souvenirs authentiques ont également suscité l'intérêt des visiteurs.Sahir Ali Bagha, et Mme Shagufta Awan, deux chanteurs pakistanais de renommé qu'on a fait venir exprès du Pakistan pour le festival, ont illuminé la soirée et réchauffé les coeurs avec des chants patriotiques, des chansons Sufis et leurs plus célèbres titres.
Qamar Bashir
Minister (Press)
Embassy of Pakistan to France, Paris
0770123323(mobile)
01 45 61 48 98 (office)

Address: 18 Rue Lord Byron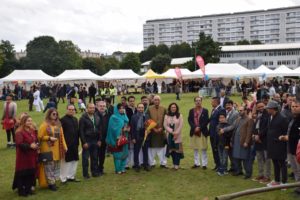 https://www.youtube.com/watch?v=OG3dzwwRUcI