EMBASSY OF PAKISTAN TO FRANCE
PRESS SECTION
PRESS RELEASE
Ambassador's virtual meeting with France-based Pakistani Journalists
Paris 1st May 2020. The Ambassador of Pakistan to France Mr. Moin ul Haque held a virtual meeting with France-based Pakistani journalists yesterday and apprised them of various steps taken to provide relief and assistance to Pakistani community members affected by the coronavirus epidemic.
He also informed the journalists about the policy of the Government of Pakistan regarding operation of special flights to bring back home stranded Pakistanis worldwide and transportation of dead bodies from abroad to Pakistan. As these two issues pertain to France also, he assured the community that the Embassy has taken them up with the concerned authorities for an early resolution.
The Ambassador urged the community to donate generously in the Prime Minister's Relief Fund for COVID 19 to help the Government of Pakistan in providing relief to the vulnerable segments of the society during the epidemic.
He called upon the Pakistan community in France to raise their voice against the brutal repression of Kashmiris in Indian Occupied Jammu and Kashmir and stigmatization of Muslims in India during the coronavirus epidemic.
The Ambassador also reassured the community that the Embassy stands by them in these difficult times.
سفارت خانہ پاکستان برائے فرانس
پریس سیکشن
پریس ریلیز
سفیر پاکستان کی فرانس میں مقیم پاکستانی صحافیوں سے ویڈیو نشست
پیرس 1 مئی:2020  جناب معین الحق سفیر پاکستان برائے فرانس نے گذشتہ روز فرانس میں مقیم پاکستانی صحافیوں سے ویڈیو کانفرنس کے ذریعے انہیں کورونا وائرس سے متاثر ہونے والے پاکستانی اراکین کو سفارت خانہ کی طرف سے امداد پہنچانے کیلئے کئے جانے والے اقدامات کے بارے میں آگاہ کیا۔
سفیر پاکستان نے صحافیوں کو دنیا بھر میں پھنسے ہوئے پاکستانیوں کو وطن واپس لانے اور اور بیرون ملک سے پاکستانیوں کی لاشوں کو وطن منتقل کرنے کیلئے حکومت پاکستان کی جانب سے خصوصی پروازیں چلائے جانے کی پالیسی کے بارے میں بھی آگاہ کیا اور کہا کہ چونکہ یہ دونوں مسائل فرانس سے بھی وابستہ ہیں اس لیئے سفارت خانہ ان معملات کو جلد از جلد حل کرنے کیلئے متعلقہ حکام سے رابطہ میں ہے۔
سفیر پاکستان نے پاکستانی کمیونٹی سے پرزور درخواست کی کہ وہ وزیراعظم کے ریلیف فنڈ کوویڈ19 میں فراغ دلی سے بڑھ چڑھ کر حصہ لیں تاکہ اس مہلک وباء کے دوران معاشرے کے کمزور اور مستحق افراد کو مدد فراہم کرنے میں حکومت پاکستان کی مدد کی جاسکے۔
سفیر پاکستان نے پاکستانی کمیونٹی سے مطالبہ کیا کہ وہ مقبوضہ جموں و کشمیر میں کشمیریوں پر بھارت کی جانب سے ہونے والے وحشیانہ ظلم و ستم کے خلاف اپنی آواز اٹھائیں۔
سفیر پاکستان نے انہیں یہ بھی یقین دلایا کہ سفارت خانہ اس مشکل گھڑی میں ان کے شانہ بشانہ کھڑا ہے۔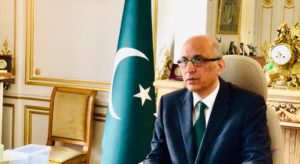 Qamar Bashir
Minister (Press)
Embassy of Pakistan to France, Paris
0770123323(mobile)
01 45 61 48 98 (office)
Address: 18 Rue Lord Byron