Dissemination of Information regarding DIGISKILLS.PK 2.0, in Pakistan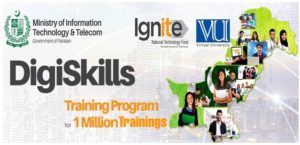 Digiskills.pk 2.0, a collaborative project of Ministry of IT & Telecom (MoIT&T) and Virtual University Pakistan. Digiskill is a flagship project of Ignite National Technology Fund, a non-profit company administered by MoIT&T, which aim to equip freelancers with the skill set required to compete in the international IT related online job market. Digiskills.pk was launched in March 2018 and has imparted over 2.2 million trainings ever since.
Recently, Ignite and Virtual University Pakistan have signed a contract for phase 2 of the programme, Digiskills.pk 2.0, with the aim to impart 1.5 million trainings in the next 26 months. Enrollments are currently in progress.
Information pertaining to Digiskills.pk 2.0, along with details of enrollment/courses being offered at Virtual University may be disseminated amongst the Pakistani Diaspora who can also benefit from these programmes.
Please follow the links below for more information:
https://digiskills.pk/default.aspx