EMBASSY OF PAKISTAN TO FRANCE
PRESS SECTION
PRESS RELEASE
A workshop on Truck Art of Pakistan in Paris thrilled the participants
Paris, 5th December 2019. Pakistan's Truck Art famous for its hand-painted intricate patterns and designs was introduced in France in a special workshop held at the Pakistan House in Paris, yesterday.
The Workshop was hosted by Mrs. Farrah Moin, the wife of the Ambassador of Pakistan to France Mr. Moin ul Haque. The guests which included French officials, members of association 'Bienvenue France' and ladies of the diplomatic corps were given a detailed presentation about the Truck art background and evolution in Pakistan. The participants were told that the Truck art was not simply confined to decorate vehicles, but it was now being applied on variety of products such as handbags, shoes, clothes, decoration pieces and furniture.
The participants took great interest in the workshop and the different articles, including a car decorated with Truck Art, which were also displayed on the sideline of the workshop. They also enjoyed doing the Truck art by themselves.
Later, the guests were served with traditional Pakistani food.
سفارت خانہ پاکستان، پیرس
پریس سیکشن
پریس ریلیز
پیرس میں پاکستانی ٹرک آرٹ کی ورکشاپ کے انعقاد سے شرکاء لطف اندوز
پیرس، 5 دسمبر :2019 پیرس میں گزشتہ روز پاکستانی ٹرک آرٹ کی ایک خصوصی ورکشاپ کا انعقاد کیا گیا جس میں ہاتھ سے پینٹ کردہ پیچیدہ نمونوں اور ڈیزائنوں کو متعارف کروایا گیا۔ اس ورکشاپ کا انعقاد پاکستان ہاؤس میں کیا گیا تھا۔
اس ورکشاپ کی میزبانی جناب معین الحق سفیر پاکستان برائے فرانس کی اہلیہ محترمہ فرح معین نے کی۔ ورکشاپ کے شرکاء جن میں فرانسیسی عہدیدار، انجمن 'بیونیو فرانس' اور سفارتی کور کی خواتین شامل تھیں کو پاکستانی ٹرک آرٹ کے پس منظر اور ارتقاء کے بارے میں تفصیلی آگاہی فراہم کی گئی۔ شرکاء کو بتایا گیا کہ ٹرک آرٹ صرف گاڑیوں کو ہی سجانے تک محدود نہیں ہے بلکہ اب اسے مختلف قسم کی مصنوعات مثلاً ہینڈ بیگ، جوتوں، کپڑوں، سجاوٹ کی اشیاء اور فرنیچر پر بھی کیا جا رہا ہے۔
شرکاء نے اس ورکشاپ میں گہری دلچسپی لی اور ٹرک آرٹ سے تیار شدہ مختلف اشیاء جن میں خصوصی طور پر خوبصورتی سے سجائی گئی کار کو نمائش کیلئے پیش کیا گیا تھا۔ شرکاء اپنے ہاتھوں سے ٹرک آرٹ کا کام کر کے لطف اندوز ہوئے۔
بعدازاں! مہمانوں کی پاکستان کے روائیتی کھانوں سے تواضع کی گئی۔
Ambassade du Pakistan en France
Service Presse
Communiqué de Presse
Un atelier sur le 'Truck Art' du Pakistan a enthousiasmé les participants à Paris
Paris, le 5 décembre 2019.
Le 'Truck Art' su Pakistan, célèbre pour ses motifs et dessins finement ouvragés peints à la main, a été présenté en France lors d'un atelier spécial qui s'est tenu hier à la Maison du Pakistan à Paris.
L'atelier a été accueilli par Mme. Farrah Moin, épouse de l'Ambassadeur du Pakistan en France, M. Moin ul Haque. Les invités, qui comprenaient des responsables français, des membres de l'association Bienvenue France et des dames du corps diplomatique, ont assisté à une présentation détaillée sur l'histoire et l'évolution du Truck Art au Pakistan. Les participants ont appris que le Truck Art ne se limitait pas à décorer les véhicules, mais qu'il s'appliquait maintenant à divers produits : sacs à main, chaussures, vêtements, pièces de décoration et meubles.
Les participants ont porté un grand intérêt à l'atelier et aux différents articles, dont une voiture décorée de Truck Art, qui ont également été exposés en marge de l'atelier. Ils ont aimé également s'initier au Truck Art eux-mêmes.
Plus tard, les invités ont dégusté la nourriture traditionnelle pakistanaise.
Qamar Bashir
Minister (Press)
Embassy of Pakistan to France, Paris
0770123323(mobile)
01 45 61 48 98 (office)

Address: 18 Rue Lord Byron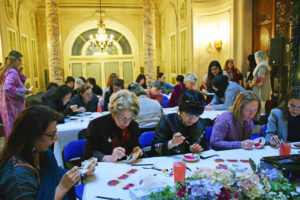 https://www.youtube.com/watch?v=ZHqo40KJ1DE