EMBASSY OF PAKISTAN TO FRANCE
PRESS SECTION
PRESS RELEASE
Pak community of France Expressed Solidarity with Kashmiris
Paris 30th August, 2019. Along with the entire Pakistani nation, notables of the Pakistani and Kashmiri communities and the members of the Embassy of Pakistan to France observed the "Kashmir Hour" to express their solidarity with the people of Indian Occupied Jammu and Kashmir (IOK).
Speaking on the occasion, the Ambassador of Pakistan to France Mr. Moin ul Haque reiterated the resolve of the government and the people of Pakistan to stand shoulder to shoulder with the people of Kashmir and to continue Pakistan's political, diplomatic and moral support for their cause. He reminded them of Prime Minister, Imran Khan's pledge that he would now act as their Ambassador and fight their cause in all international forums.
He called upon the international community especially permanent members of the United National Security Council to take notice of the blatant human rights violations in IOK, which is the heaviest militarized zone in the world, and play their role in resolution of the long outstanding Kashmir dispute in accordance with the UNSC resolution and aspirations of the Kashmiris people.
سفارت خانہ پاکستان، پیرس
پریس سیکشن
پریس ریلیز
فرانس میں مقیم پاکستانی کمیونٹی کا کشمیریوں کے ساتھ اظہار یکجہتی
پیرس 30 اگست:2019 پوری پاکستانی قوم کے ساتھ ساتھ فرانس میں مقیم پاکستانی و کشمیری برادری اور سفارت خانہ پاکستان برائے فرانس کے تمام اراکین نے 'کشمیر آور' کے موقع پر مقبوضہ جموں و کشمیر کے عوام کے ساتھ اظہار یکجہتی کیا۔
اس موقع پرگفتگو کرتے ہوئے سفیر پاکستان جناب معین الحق نے کہا کہ مشکل کی اس گھڑی میں حکومت اور پاکستانی عوام اپنے کشمیری بہن بھائیوں کے ساتھ کاندھے سے کاندھا ملا کر کھڑے ہیں اور پاکستان اس مقصد کیلئے اپنی سیاسی، سفارتی اور اخلاقی مدد جاری رکھے گا۔ انہوں نے فرانس میں مقیم پاکستانیوں کو بتایا کہ وزیراعظم پاکستان، عمران خان نے عہد کیا ہے کہ وہ کشمیر کے سفیر کی حیثیت سے اپنا کردار ادا کریں گے اور تمام بین الاقوامی فورمز پر اس مقصد کے لئے اپنی آواز بلند کریں گے۔
سفیر پاکستان نے بین الاقوامی برادری بالخصوص اقوام متحدہ کی سلامتی کونسل کے مستقل اراکین سے مطالبہ کیا کہ وہ جموں و کشمیرمیں بھارت کی جانب سے کی جانے والی انسانی حقوق کی خلاف ورزیوں کا نوٹس لیں جو کہ اس وقت دنیا میں سب سے زیادہ فوج زدہ علاقہ بنا ہوا ہے اور کشمیر کے اس دیرینہ تنازعہ کو اقوام متحدہ کی سلامتی کونسل کی قراردادوں اور کشمیری عوام کی امنگوں کے مطابق حل کروانے میں اپنا بھرپورکردار ادا کریں۔
Ambassade du Pakistan en France
Service Presse
Communiqué de presse
La communauté pakistanaise en France a exprimé sa solidarité avec le peuple Cachemiri
Paris 30 août 2019
Avec l'ensemble de la nation pakistanaise, les notables des communautés pakistanaise et cachemirie et les membres de l'ambassade du Pakistan en France ont observé l'"Heure du Cachemire" pour exprimer leur solidarité avec le peuple du Jammu-et-Cachemire occupé par l'Inde (IOK).
S'exprimant à cette occasion, l'Ambassadeur du Pakistan en France, M. Moin ul Haque, a réitéré la détermination du gouvernement et du peuple pakistanais à se tenir aux côtés du peuple du Cachemire et à maintenir le soutien politique, diplomatique et moral du Pakistan à leur cause. Il a rappelé l'engagement pris par le Premier Ministre Imran Khan d'être désormais leur ambassadeur et de défendre leur cause dans toutes les instances internationales.
Il a appelé la communauté internationale, en particulier les membres permanents du Conseil de sécurité des Nations unies, à prendre acte des violations flagrantes des droits de l'homme au Jammu-et-Cachemire occupé par l'Inde, qui est la zone la plus militarisée du monde, et à jouer leur rôle dans le règlement du conflit du Cachemire, conformément à la résolution du Conseil de sécurité des Nations unies et aux aspirations du peuple cachemiri.
Qamar Bashir
Minister (Press)
Embassy of Pakistan to France, Paris
0770123323(mobile)
01 45 61 48 98 (office)

Address: 18 Rue Lord Byron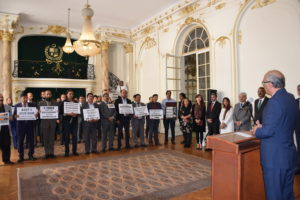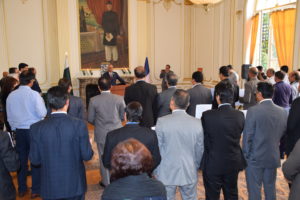 https://www.youtube.com/watch?v=0IsaDOFb80I