EMBASSY OF PAKISTAN TO FRANCE
PRESS SECTION
PRESS RELEASE
Pakistan offers lucrative opportunities for foreign investors
Paris 4th October, 2019. Pakistan economy has been stabilized, the ease of doing business has been improved and well equipped special economic zones have been setup to attract foreign investors.
This was stated by Mr. Muhammad Amjad Aziz Qazi Charge D'affairs of Embassy of Pakistan to France while addressing in a conference on the topic of, "Economic Environment of Pakistan" organized by the French top Economic magazine Emerging Nations in the heart of Paris today.
The conference was attended by the French businesspersons, Scholars and notables of the French civil society and media person.
Mr. Muhammad Amjad Aziz Qazi while addressing participants highlighted the economic and business opportunities available in multiple sectors and invited the French investors, industrialists and businessperson to invest in Pakistan and benefit from the liberal and investor friendly policies of the government of Pakistan and market of 207 million people.
Mr. Brahim Hammsuche, member, Pakistan France Friendship Group in the French Parliament in his address expressed his satisfaction over the existing friendly relations between Pakistan and France especially in the economic and trade sectors and urged the French investors to explore Pakistan for trade investment and Business opportunities.
Later, Miss Iqra Ashraf, First Secretary (Political) of the mission in detailed presentation identified different sectors of Pakistan which are open for investment and business and said that the unique geographic location has made Pakistan a regional economic hub.
Earlier, Mr. Jacques Sappelsa President of the International and Geopolitical Academy, Mr. Laurence Gourret Lapeyre journalists, writer and Mr. Kavel, from Schiller Institute in their addresses highlighted the geopolitical importance of Pakistan. They said that the stable political situation in the country make Pakistan as a preferred destination for business, trade and investment.
Dr. Anne Garde et Laura Verniere writer and historian from Emerging Nations highlighted the culture and traditions of Pakistan especially its various sharing in Multan.
Mr. Amjad Qazi also used the occasion to inform the audience about Indian repression in Indian Occupied Kashmir, stressing that India is keeping more than 8 million Kashmiris under curfew and communication blackout for the last two months. He explained that the issue of Kashmir should be resolved in accordance with the UN resolutions and wishes of the people of Kashmir.
سفارت خانہ پاکستان، پیرس
پریس سیکشن
پریس ریلیز
پاکستان غیر ملکی سرمایہ کاروں کو پاکستان میں منافع بخش سرمایہ کاری کے مواقعے فراہم کرتا ہے
پیرس 4 اکتوبر:2019 پاکستان کی معیشت مستحکم ہوچکی ہے اور غیرملکی سرمایہ کاروں کو پاکستان میں سرمایہ کاری اور کاروبار کیلئے راغب کرنے کیلئے بہتری اور آسانی لائی جانے کے ساتھ ساتھ پاکستان میں خصوصی طور پر معاشی زونز بھی قائم کر دیئے گئے ہیں۔
یہ بات سفارت خانہ پاکستان برائے فرانس کے نائب سفیر جناب محمد امجد عزیز قاصی نے فرانسیسی اعلی معاشی میگزین 'نیشنز ایمرجنگ' کے زیر اہتمام آج ہونے والی کانفرنس بعنوان "پاکستان کا معاشی ماحول" میں کہی۔
اس کانفرنس میں فرانسیسی کاروباری شخصیات، سکالرز، فرانسیسی سول سوسائٹی کے اہم اراکین اور صحافیوں کی بڑی تعداد نے شرکت کی۔
جناب محمد امجد عزیز قاضی نے کانفرنس کے شرکاء سے خطاب کرتے ہوئے پاکستان کے متعدد معاشی شعبوں میں دستیاب کاروباری مواقعوں پر روشنی ڈالتے ہوئے فرانسیسی سرمایہ کاروں، صنعت کارووں اور کاروباری شخصیات کو پاکستان میں سرمایہ کاری کرنے کی دعوت دی اور کہا کہ وہ حکومت پاکستان کی آسان اوردوستانہ سرمایہ کاری پالیسیوں سے فائدہ اٹھائیں جہاں دو سو سات ملین لوگ آباد ہیں۔
فرانسیسی پارلیمنٹ میں پاکستان فرانس دوستی گروپ کے رکن جناب برالیم ہمسوچی نے اپنے خطاب میں پاکستان اور فرانس کے مابین موجود دوستانہ تعلقات خصوصاً تجارتی اور اقتصادی شعبوں میں پاکستان پر اطمینان کا اظہارکیا اور فرانسیسی سرمایہ کاروں پر زور دیا کہ وہ پاکستان میں معاشی اور تجارتی شعبوں میں سرمایہ کاری کیلئے پاکستان کی آسان اور دوستانہ تجارتی پالیسیوں سے فائدہ اٹھائیں۔
بعد ازاں، سفارت خانہ کی فرسٹ سیکرٹری محترمہ اقراء اشرف نے تفصیلی پریزٹیشن دیتے ہوئے کہا کہ پاکستان جغرافیائی اور علاقائی اقتصادی اعتبار سے معیشت کا اہم ترین مرکز ہے جہاں غیر ملکی سرمایہ کاروں کیلئے مختلف شعبوں میں سرمایہ کاری اور کاروبار کے مواقعے موجود ہیں۔
اس سے قبل، بین الاقوامی جیوپولیٹیکل اکیڈمی کے صدر جناب جیکس سپیلسا، جناب لارنس گوریٹ لاپیئر صحافی و مصنف اور شیلر انسٹی ٹیوٹ کے کیول نے اپنے خطاب میں جغرافیائی لحاظ پاکستان کی اہمیت کو اجاگر کرتے ہوئے کہا کہ ملک کی مستحکم سیاسی صورتحال کی بدولت پاکستان کاربار، تجارت اور سرمایہ کاری کے اعتبار سے اہم مقام حاصل کر رہاہے۔
نیشنز ایمرجنگ میگزین کی مصنف اور مورخ ڈاکٹر اینے گارڈ لاورا ورنیئرنے پاکستان میں خاص طور پر ملتان کی ثقافتی ورثہ پر روشنی ڈالی۔
جناب امجد عزیز قاضی نے مقبوضہ جموں و کشمیر میں ہونے والی بھارتی مظالم کے متعلق شرکاء کو آگاہ کیا اور کہا کہ بھارت نے گزشتہ دو ماہ سے آٹھ ملین کشمیریوں کو شدید کرفیو اور مواصلات کی سہولیات سے محروم رکھا ہواہے۔ انہوں نے زور دیا کہ مسئلہ کشمیر کو اقوام متحدہ کی قراردادوں اور کشمیری عوام کی امنگوں کے مطابق حل کیا جائے۔
Ambassade du Pakistan en France
Service Presse
Communiqué de presse
Le Pakistan offre des opportunités lucratives aux investisseurs étrangers
Paris, le 4 octobre, 2019
L'économie pakistanaise s'est stabilisée, la facilité de faire des affaires a été améliorée et des zones économiques spéciales bien équipées ont été créées pour attirer les investisseurs étrangers.
C'est ce qu'a déclaré M. Amjad Aziz Qazi Charge D'affaires de l'Ambassade du Pakistan en France lors d'une conférence sur le thème " Environnement économique du Pakistan " organisée par le magazine économique français Emerging Nations au cœur de Paris.
La conférence a rassemblé hommes d'affaires français, universitaires et notables français et les médias.Amjad Aziz Qazi, en s'adressant aux participants, a souligné les opportunités économiques et commerciales disponibles dans de multiples secteurs et a invité les investisseurs, industriels et hommes d'affaires français à investir au Pakistan et à bénéficier des politiques libérales et favorables aux investisseurs du gouvernement du Pakistan et du marché de 207 millions de personnes.
Mr. Brahim Hammsuche membre du groupe d'Amitié France-Pakistan au Parlement français dans son allocution a exprimé sa satisfaction sur les relations amicales existantes entre le Pakistan et la France, en particulier dans les secteurs économique et commercial, et a exhorté les investisseurs français à explorer les possibilités d'investissement commercial et d'affaires au Pakistan.
Plus tard, Mlle. Iqra Ashraf, chef du service politique de la mission, a identifié dans une présentation détaillée différents secteurs du Pakistan qui sont ouverts à l'investissement et aux affaires et a déclaré que la situation géographique unique a fait du Pakistan un centre économique régional.
Auparavant, M. Jacques Sappelsa, Président de l'Académie Internationale et géopolitique, Mme. Laurence Gourret Lapeyre, journaliste et l'écrivain M. Kavel de l'Institut Schiller ont souligné dans leurs interventions l'importance géopolitique du Pakistan. Ils ont déclaré que la stabilité de la situation politique dans le pays fait du Pakistan une destination privilégiée pour les affaires, le commerce et les investissements.
Dr. Anne Garde et Mme. Laura Verniere, écrivaine et historienne de Emerging Nations ont mis en lumière la culture et les traditions du Pakistan, notamment à travers des projets de collaboration à Multan.
Amjad Qazi a également profité de l'occasion pour informer l'auditoire de la répression indienne au Cachemire occupé par l'Inde, soulignant que ce pays maintient plus de 8 millions de Cachemiriens sous couvre-feu et coupures de communication depuis deux mois. Il a expliqué que la question du Cachemire devrait être résolue conformément aux résolutions de l'ONU et aux souhaits du peuple cachemiri.
Qamar Bashir
Minister (Press)
Embassy of Pakistan to France, Paris
0770123323(mobile)
01 45 61 48 98 (office)

Address: 18 Rue Lord Byron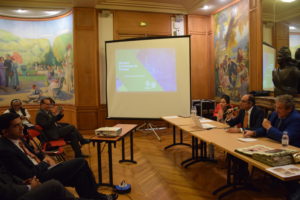 https://www.youtube.com/watch?v=krOvGu-INq4