EMBASSY OF PAKISTAN TO FRANCE
PRESS SECTION
PRESS RELEASE
The Artwork of four Pakistani artists showcased during Paris Art week
Paris 12th Oct, 2019. The paintings of four Pakistani renowned artists were showcased during the Paris Art week in the prestigious Bienvenu Art fair held in Paris from 12th to 16th of this month.
The creative art work of Pakistan artists Mr. Noor Ali Chagani, Farazeh Syed, Mr. Aamir Habib, Miss Imrana Tanveer included paintings, installations, 3D artworks was appreciated by the large number of visitors of the Art fair.
Mr. Muhammad Amjad Aziz Qazi Deputy Head of the Mission of Pakistan to France visited the Art fair today and appreciated creative and original artwork of Pakistani artists
He met with Ms. Laure Parise Co-founder of Antidote an online e-commerce art & design platform based in Dubai and thanked her for helping the Pakistani artists in exhibiting their artwork in one of the most prestigious art fairs of the world.
He said that the work of Pakistani artists will introduce Pakistan's rich socio-political, historical and diverse fine art heritage to the western audience which will help in improving soft image of the country.
He also met with official of Cite Internationale des Arts and discussed with them ways and means to showcase the artwork of Pakistani artists in France on regular basis.
Organized by Cité internationale des arts and held annually, Bienvenu art fair brings together amateurs, collectors, artists from the entire world to showcase their work and interact with fellow artists, gallery owners and the public.
سفارت خانہ پاکستان، پیرس
پریس سیکشن
پریس ریلیزچار پاکستانی فنکاروں کے فن پاروں کی پیرس آرٹ ویک میں بھرپور انداز سے نمائشپیرس 12 اکتوبر:2019 چار پاکستانی معروف فنکاروں کے فن پارووں کی پیرس آرٹ ویک بھرپور انداز سے نمائش کی گئی۔ یہ نمائش پیرس کی مشہور بیوینیو آرٹ گیلری میں اس ماہ کی 12تا 16 تاریخ تک جاری رہے گی۔پاکستانی فنکاروں جناب نور علی چغتائی، فرح زیب سید، جناب عامرحبیب اور محترمہ عمرانہ تنویر کی تخلیق کردہ پینٹنگز اور تھری ڈی آرٹ ورک کو شاندار انداز سے نمائش میں پیش کیا جا رہا ہے۔ نمائش میں کثیر تعداد میں آئے ہوئے مہمانوں نے پاکستانی فنکاروں کے آرٹ ورک میں گہری دلچسپی کا اظہار کیا۔سفارت خانہ پاکستان برائے فرانس کے نائب سفیر جناب محمد امجد عزیز قاضی نے آج اس آرٹ میلے کے دورے کے دوران پاکستانی فنکاروں کے خوبصورت تخلیق کردہ آرٹ اور فن پاروں کو سراہا۔جناب محمد امجد عزیز قاضی نے دوبئی سے تعلق رکھنے والی اینتی دوتے آن لائن ای کامرس آرٹ اینڈ ڈیزائن پلیٹ فارم کی کو فاؤنڈر محترمہ لاورو پیرسے سے بھی ملاقات کی اور پاکستانی فنکاروں کے تیار کردہ فن پاروں کی عالمی آرٹ میلے میں نمائش کرنے پر ان کا شکریہ ادا کیا۔
نائب سفیر نے کہا کہ پاکستانی فنکار اپنے فن سے مغرب میں پاکستان کے مثبت پہلو کو اپنی بہترین تخلیق کردہ معاشی، سیاسی، تاریخی اور فن کے ورثہ پر مبنی پینٹنگز کے ذریعے بہتر بنانے میں معاون ثابت ہونگے۔
انہوں نے سائتے انٹرنیشنل آرٹس کے عہدیداروں سے بھی ملاقاتیں کیں اور ان کے ساتھ فرانس میں پاکستانی فنکاروں کے فن پاروں کو مستقل  بنیادوں پر نمائش کرنے کے طریقہ کار اور ذرائع پر تبادلہ خیال کیا۔
سائتے انٹرنیشنل آرٹس کی جانب سے یہ پروگرام ہر سال منعقد کیا جاتا ہے۔ بیوینیو آرٹ میلہ پوری دنیا سے آئے ہوئے فنکاروں کو اپنے فن پاروں کی نمائش کرنے اور اپنے ساتھی فنکاروں، گیلری مالکان اور عوام سے رابطوں کا ذریعہ بنتا ہے۔
Ambassade du Pakistan en France
Service Presse
Communiqué de Presse
Les œuvres de quatre artistes pakistanais présentées lors de la Semaine de l'Art à Paris
Paris 12 octobre 2019.
Les œuvres de quatre artistes pakistanais de renom ont été exposées lors de la prestigieuse Bienvenu Art Fair qui s'est tenue à Paris dans le cadre de la Semaine de l'Art du 12 au 16 de ce mois.
Les créations artistiques, y compris des tableaux, des installations et des œuvres d'art 3D des artistes pakistanais Noor Ali Chagani, Farazeh Syed, Aamir Habib et Imrana Tanveer ont été appréciées par un grand nombre de visiteurs à la foire.
Muhammad Amjad Aziz Qazi Chef adjoint de l'Ambassade du Pakistan en France a visité la Bienvenu Art Fair aujourd'hui et a apprécié les œuvres créatives et originales des artistes pakistanais.
Il a rencontré Mme Laure Parise, cofondatrice d'Antidote, une plateforme d'art et de design en ligne basée à Dubaï, et l'a remerciée d'avoir aidé les artistes pakistanais à exposer leurs œuvres dans l'une des plus prestigieuses foires artistiques du monde.
Il a déclaré que le travail des artistes pakistanais permettra de présenter au public occidental le riche patrimoine sociopolitique, historique et artistique du Pakistan, ce qui contribuera à améliorer l'image du pays.
Il a également rencontré des représentants de la Cité internationale des arts et a discuté avec eux des moyens de présenter régulièrement les œuvres d'artistes pakistanais en France.
Organisée par la Cité internationale des arts et tenue annuellement, la Bienvenu Art Fair rassemble des amateurs, des collectionneurs et des artistes du monde entier pour présenter leurs œuvres et interagir avec leurs collègues artistes, les galeristes et le public.
Qamar Bashir
Minister (Press)
Embassy of Pakistan to France, Paris
0770123323(mobile)
01 45 61 48 98 (office)
Address: 18 Rue Lord Byron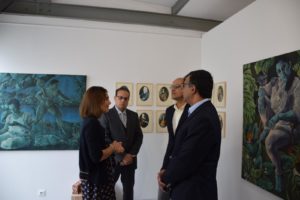 https://www.youtube.com/watch?v=WnqG7BtsY9w