Embassy of Pakistan
Paris-France
(Press Section)
Press Release
12-top Pakistan companies showcase their products at Texworld, Paris
Paris 19th September, 2018. Twelve Pakistani textile companies participated at Texworld, the bi-annual International textile exhibition held in Paris from 17th to 20thSeptember, 2018.
The Ambassador of Pakistan to France Moin ul Haque visited the Pakistan Pavilion established at the exhibition and met various companies and thanked them for their participation showcasing a wide range of their quality textile and leather products.
The Ambassador noted with satisfaction that the Pakistan's exports to France are following an upward trajectory since the launch of economic diplomacy initiated by the Embassy in 2016. In the year 2017, total bilateral trade increased to US$1.58 billion compared to US$1.467 billion in 2016. He added that the data for first months 2018 reflected 8% increase in the bilateral trade, which was a welcoming trend.
Some of the major Pakistani textile groups/exporters namely Nishat Mills, Kohinoor, Sapphire, Kamal Limited, Siddique Sons and Master Textile had also established their theme based customized pavilions which attracted large number of potential buyers.
The Texworld held twice every year is a popular trade fair exclusively for professionals from the textile and fashion industry. It is a valuable and efficient gateway to the European market for international textile manufactures. Each year, a number of Pakistani textile companies participate in the exhibition with support of Trade Development Authority of Pakistan (TDAP).
پیرس میں منعقد ہونے والی ٹیکس ورلڈ نمائش میں پاکستان کی 12 کمپنیاں اپنی اعلی مصنوعات کے ساتھ شرکت کر رہی ہیں 
 پیرس 19 ستمبر2018ء: پیرس میں سال میں دو مرتبہ منعقد ہونے والی بین الاقوامی شہرت یافتہ کپڑے کی صنعت کی نمائش "ٹیکس ورلڈ" میں پاکستان کی کپڑے کی صنعت سے وابستہ 12کمپنیاں حصہ لے رہی ہیں۔ یہ نمائش 17 تا 20 ستمبر 2018 تک جاری رہے گی۔
سفیر پاکستان جناب معین الحق نے اس نمائش میں پاکستانی کمپنیوں کی جانب سے لگائے گئے سٹالز کا دورہ کیا۔ انہوں نے محتلف کمپنیوں کے نمائندوں سے ملاقاتیں کیں اوراس نمائش میں شرکت کرنے اور کپڑے و چمڑے کی بنی ہوئی اعلی قسم کی مصنوعات کو اس نمائش میں بین الاقومی خریداروں کیلئے انتہائی خوبصورتی کے ساتھ پیش کرنے پر ان کا شکریہ ادا کیا۔ 
سفیر پاکستان نے اس بات پر اطمینان کا اظہار کرتے ہوئے کہا کہ سفارت خانہ پاکستان کی جانب سے سال 2016 سے اٹھائے گئے معاشی، سفارت کاری کے اقدامات کی بدولت پاکستان کی فرانس کو برآمدات میں حیرت انگیز اضافہ ہوا ہے۔ سال 2016 میں فرانس پاکستان کا باہمی تجارتی حجم 1.467 بلین ڈالر تھا جبکہ اس کی نسبت سال2017 میں یہ باہمی تجارتی حجم بڑھ کر1.58 بلین ڈالر ہو گیا تھا۔ انہوں نے مزید کہا کہ سال 2018 کے پہلے مہینے کے اعدادوشمار کے مطابق یہ باہمی تجارتی حجم 8 فیصد تک بڑھنے کا امکان ہے جوکہ ایک خوش آئند بات ہے۔
پاکستان کی کپڑے کی صنعت کے نامور گروپوں اور برآمد کنندگان جن میں نشاط ملز، کوہ نور، سفائر، کمال لمیٹڈ، صدیق سنز اور ماسٹر ٹیکسٹائل نے اپنے سٹالز بین الاقومی معیار کے مطابق تیار کردہ مصنوعات کے ساتھ نہایت خوبصوتی سے سجائے ہوئے تھے جوکہ بین الاقوامی خریداروں کی توجہ کا مرکز بنے ہوئے ہیں۔ 
بین الاقوامی شہرت یافتہ ٹیکس ورلڈ کی نمائش سال میں دو مرتبہ پیرس میں منعقد کی جاتی ہے جو کہ خاص طور پر کپڑے کی صنعت اور فیشن انڈسٹری سے تعلق رکھنے والوں کیلئے بڑی مفید ثابت ہوتی ہے۔ یہ نمائش بین الاقوامی سطح پر کپڑے تیار کرنے والی کمپنیوں کیلئے یورپین مارکیٹ تک رسائی حاصل کرنے کا قابل قدر، موثر اور جدید ذریعہ ثابت ہوتی ہے۔  پاکستانی ٹیکسٹائل کمپنیاں ہر سال اس نمائش میں ٹریڈ ڈویلمپمنٹ اتھارٹی آف پاکستان کی معاونت سے حصہ لیتی ہیں۔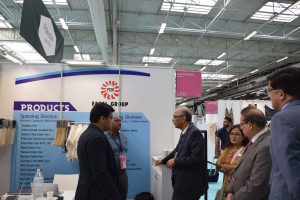 https://youtu.be/Kp5Q9CE7mno