Embassy of Pakistan
Paris
Press Section
PRESS RELEASE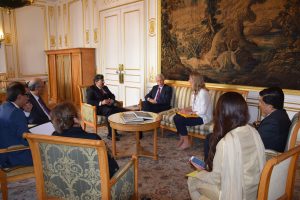 Pak Commerce Minister invites French Entrepreneurs and businessmen to invest in Pakistan
Paris 16th October 2017.  Mohammad Pervaiz Malik Minister of Commerce and Textile has invited French entrepreneurs, and investors to benefit from Pakistan's business friendly policies and invest in Pakistan in the fields of energy, infrastructure development, food processing, automobiles, tourism and information technology.
The Federal Minister is visiting Paris as part of his European tour to discuss bilateral economic & commercial relations and as well as seek support for GSP Plus Review.
During his stay in Paris, he held separate meetings with Mr. Jean Baptiste Lemoyne Secretary of State, Ministry for Europe and Foreign Affairs of France, Mr. Phillipe Gautier, President MEDEF International, Mr. Thiery Pflmlin President Pakistan France-Business Council and Mr. Didier Kling, President Paris Chamber of Commerce. He also visited French National Assembly and met with members of Pakistan-French Friendship group.
The Minister noted that the existing volume of bilateral trade of US$1.4 billion was not commensurate with the true potential of the two economies and called for more exchanges and business linkages to increase the trade volume.
During the meetings, upgradation of the Administrative, Economic and Trade Committee from Secretary to Ministerial level was also discussed to make it an effective and productive forum. The Minister also proposed revival of Air France flights to Pakistan to enhance connectivity and facilitate business travel.
The Minister also appreciated the French support in the EU for trade related concessions, especially for GSP Plus and hoped that France would continue to support Pakistan during the GSP Plus review process.
Qamar Bashir
Counsellor (Press)
Embassy of Pakistan, Paris
0770123323(mobile)
01 45 61 48 98 (office)
01 45 61 10 17 (fax)
E-mail: presssectionparis@gmail.com
Address: 18 Rue Lord Byron
 Paris 75008, France
پاکستان کے وزیر برائے تجارت نے فرانسیسی کاروباری افراد کو پاکستان میں سرمایہ کاری کی دعوت دی ہے
 پیرس:  16 اکتوبر2017ء: محمد پرویز ملک وزیر برائے تجارت و صنعت نے فرانسیسی کاروباری افراد اور صنعتکاروں کو پاکستان کی سرمایہ کاری کی دوستانہ پالیسیوں سے فائدہ اٹھانے اور پاکستان میں توانائی، بنیادی تعمیری شعبے کی ترقی، خوراک کی پروسیسنگ، آٹوموبائل، سیاحت اور مواصلاتی نظام میں سرمایہ کاری کی دعوت دی ہے۔ 
وفاقی وزیر کا پیرس کا دورہ یورپی ممالک کے دوروں کا حصہ ہے جس کا مقصد دوطرفہ اقتصادی اور کاروباری تعلقات کے فروغ کے ساتھ ساتھ جی ایس پی پلس کا جائزہ لینا اور اس کی حمایت طلب کرنا ہے۔ 
انہوں نے پیرس میں اپنے قیام کے دوران جناب جین بپتیست لیمویوں سیکرٹری سٹیٹ، وزارت یورپ و خارجہ امور فرانس،  جناب فلپس جوتیغ  صدر  میڈیف انٹرنیشنل، جناب تھیری فلملین صدر پاکستان فرانس بزنس کونسل اور جناب ڈیڈر کلنگ، صدر پیرس چیمبر آف کامرس سے علحیدہ علحیدہ ملاقاتین بھی کیں۔ وفاقی وزیر نے فرانسیسی قومی اسمبلی کا دورہ بھی کیا اور پاکستان فرانس دوستی گروپ سے ملاقات بھی کی۔ 
وفاقی وزیر نے کہا کہ اگرچہ دوطرفہ تجار ت میں مسلسل اضافہ ہو رہا ہے تاہم موجودہ تجارتی حجم  جو کہ 1.4بلین ڈالر ہے اس میں  مزید بہتری لانے کی ضرورت ہے۔ 

وزیر نے دوطرفہ سیکرٹری سطح  پر موجود معاشی، تجارتی اور تنظیمی ڈھانچے کو وزارتی سطح پر لے جانے کی ضرورت پر زور دیا تاکہ اسے مزید موثر اور فعال بنایا جاسکے۔ وفاقی وزیر نے ایئر فرانس کی پروازوں کو پاکستان میں اپنی پروازیں شروع کرنے کی پیشکش کی ہے تاکہ مسافروں اور کاروباری افراد کو بہتر سفری سہولیات میسر آسکیں۔ 
وفاقی وزیر نے یورپی یونین کی تجارت سے متعلقہ رعائیتوں میں فرانس کے تعاون، خصوصی طور پرجی ایس پی پلس میں تعاون پر ان کی تعریف کی اور امید ظاہر کی کہ فرانس جی ایس پی پلس کی جائزہ پالیسیوں میں پاکستان کی حمایت جاری رکھے گا۔