Ambassade du Pakistan
Paris
Service Presse
Communiqué de Presse
Le 21 mai, 2017
La toute première Convention de jeunes professionnels et étudiants pakistanais a eu lieu aujourd'hui à l'ambassade du Pakistan en France, à Paris.
Plus de 100 leaders de jeunesse et étudiants représentant différentes villes et régions de France ont assisté à la Convention, présidée par l'Ambassadeur du Pakistan en France S. E. M. Moin-ul- Haque.
Dans son discours à la Convention des jeunes, l'Ambassadeur a déclaré que les jeunes pakistanais sont de véritables ambassadeurs du Pakistan et jouent un rôle essentiel dans la promotion du Pakistan en France.
L'ambassadeur a exhorté les  étudiants pakistanais qui étudient dans différents établissements en France de s'investir pleinement dans la recherche de connaissances et l'acquisition de nouvelles compétences. Il leur a conseillé de se comporter comme des citoyens responsables de la France et créer une bonne image du Pakistan et de la communauté pakistanaise en fournissant un travail assidu, en se conduisant de façon exemplaire et en respectant des lois et coutumes locales.
L'Ambassadeur a informé les participants des divers aspects concernant des relations bilatérales entre le Pakistan et la France et les efforts déployés par l'Ambassade pour renforcer ces liens importants. Il a invité les jeunes pakistanais à se joindre à l'ambassade dans l'initiative de diplomatie culturelle et publique qu'elle a lancée, sur le thème «Célébrer le Pakistan», dont l'objectif est de présenter les beaux paysages du Pakistan et son patrimoine culturel riche et diversifié au peuple français.
L'Ambassadeur a encouragé les jeunes à jouer un rôle de premier plan pour organiser différents événements sous la bannière de «Célébrer le Pakistan» dans différentes régions et villes de France pour bâtir une image douce du Pakistan et de ses habitants.
Les leaders de la jeunesse ont participé activement et avec enthousiasme à la Convention et ont partagé leurs points de vue et leurs suggestions pour promouvoir le Pakistan en France.
Qamar Bashir
Counsellor (Press)
Embassy of Pakistan, Paris
0770123323(mobile)
01 45 61 48 98 (office)
01 45 61 10 17 (fax)
E-mail: presssectionparis@gmail.com
Address: 18 Rue Lord Byron
 Paris 75008, France
Embassy of Pakistan
Paris
Press Section
PRESS RELEASE
Pak Embassy to France convened First Pakistani youth convention
May 21, 2017.      The first ever convention of young Pakistani professionals and students was held in the Embassy of Pakistan to France in Paris, today.
The Convention was presided over by the Ambassador of Pakistan to France H.E. Mr. Moin ul Haque and was attended by over 100 youth leaders and students representing different cities and regions of France.
While addressing the Youth Convention, the Ambassador said that Pakistani youth are the true ambassadors of Pakistan who are playing a vital role in promoting Pakistan in France.
The Ambassador urged the Pakistani students studying in various educational institutions of France to fully commit themselves in pursuit of knowledge and acquiring new skills. He advised them to be responsible citizens of France and earn a good name for Pakistan and the community through their hard work, exemplary conduct and respect of local laws and customs.
The Ambassador briefed the participants about various aspects of Pakistan-France bilateral relations and the efforts being made by the Embassy to strengthen these important relations. He invited the Pakistani youth to join the Embassy in its cultural and public diplomacy initiative "Celebrating Pakistan", to introduce Pakistan's beautiful landscapes and the rich and diverse cultural heritage to the people of France.
The Ambassador urged the youth to play a leading role for organizing different events conceived under the banner of "Celebrating Pakistan" in different regions and cities of France to build a soft image of Pakistan and its people.
The Youth leaders actively and enthusiastically participated in the Convention and shared their views and suggestions to promote Pakistan in France.
Qamar Bashir
Counsellor (Press)
Embassy of Pakistan, Paris
0770123323(mobile)
01 45 61 48 98 (office)
01 45 61 10 17 (fax)
E-mail: presssectionparis@gmail.com
Address: 18 Rue Lord Byron
 Paris 75008, France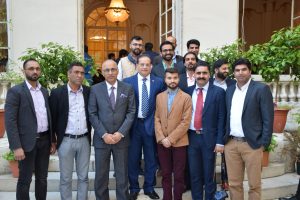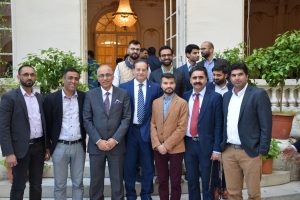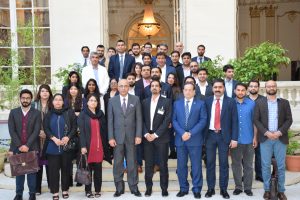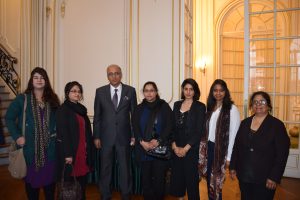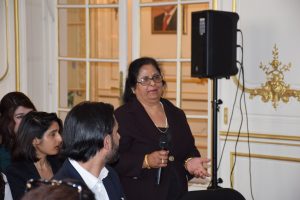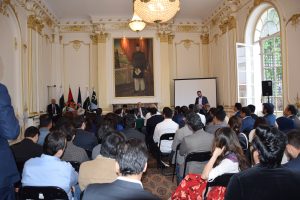 All France Pakistani Youth Convention Held at the Embassy of Pakistan in Paris.

Posted by Paris Press on Montag, 22. Mai 2017