EMBASSY OF PAKISTAN TO FRANCE
PRESS SECTION
PRESS RELEASE
Pakistan-France cooperation in Higher Education is benefiting Pakistani students
Paris 14th June, 2019. Pakistan-France cooperation in higher education sector is expanding with more and more Pakistani students choosing French Universities of higher learning to pursue their Masters and PhD degrees.
This was stated by the Ambassador of Pakistan to France Mr. Moin ul Haque while addressing the opening ceremony of Presentation of final PhD thesis by five Pakistani students held in Campus France, Paris, today.
The opening ceremony was attended by the senior officials of Campus France, faculty members, French government officials, students and media persons.
In his opening address, the Ambassador congratulated the Pakistani students on successfully completing their PhD studies. He expressed his satisfaction on the ongoing cooperation between the higher education and research institutes of Pakistan and France. He said that the recent frequent exchanges of educational delegations under the auspices of Campus France and Higher Education Commission of Pakistan have laid a sound foundation for bilateral cooperation in the field of higher studies.
Currently more than 800 Pakistani students are pursuing Masters and PhD degrees in different universities of France in diverse disciplines under special scholarship schemes being offered by government of Pakistan and France.
Campus France, a French equivalent of Higher Education Commission of Pakistan was created in 2010 with the aim of promoting the French higher education and vocational training system abroad.
سفارت خانہ پاکستان، پیرس
پریس سیکشن
پریس ریلیز
پاکستانی طالب علم پاکستان۔فرانس کے اعلی تعلیمی تعاون سے بھر پور فائدہ اٹھا رہے ہیں
پیرس 14 جون:2019 پاکستان۔فرانس کے اعلی تعلیمی شعبہ میں تعاون سے زیادہ سے زیادہ پاکستانی طلباء   اپنی ماسٹرز اور پی ایچ ڈی کی ڈگریوں کے حصول کیلئے فرانسیسی یونیورسٹیوں کا انتخاب کر رہے ہیں۔
یہ بات جناب معین الحق سفیر پاکستان نے آج پیرس میں پانچ پاکستانی طالب علموں کے پی ایچ ڈی کے تھیسس جمع کرانے کی افتتاحی تقریب جو کیمپس فرانس میں منعقد ہوئی میں کہی۔
اس افتتاحی تقریب میں فرانس کیمپس کے اعلی حکام، فیکلیٹی اراکین، فرانسیسی سرکاری حکام، طالبعلموں اور صحافیوں کی بڑی تعداد نے شرکت کی۔
اس افتتاحی تقریب سے خطاب کرتے ہوئے سفیر پاکستان نے پاکستانی طالبعلموں کو اپنی پی ایچ ڈی کی تعلیم کامیابی سے مکمل کرنے پر انہیں مبارک باد پیش کی۔ انہوں نے پاکستان اور فرانس کے اعلی تعلیم اور تحقیقاتی اداروں کے درمیان جاری تعاون پر اطمینان کا اظہار کیا۔ انہوں نے مزید کہا کہ کیمپس فرانس اور پاکستان کے اعلی تعلیمی کمیشن کے مابین حالیہ تعلیمی وفود کے تبادلوں کے باعث اعلی تعلیم کے میدان میں دو طرفہ تعاون کو بڑھانے کیلئے ایک اچھی بنیاد رکھی گئی ہے۔
حکومت پاکستان اور فرانس کی جانب سے پیش کردہ خصوصی سکالرشپ کی اسکیموں کے تحت اب تک 800 سے زائد پاکستانی طالبعلموں نے فرانس کی مختلف یونیورسٹیوں سے ماسٹرز اور پی ایچ ڈی کی ڈگریاں حاصل کیں ہیں۔
فرانس میں پاکستان کے اعلی تعلیمی کمیشن کے مساوی کیمپس فرانس کی بنیاد 2010 میں رکھی گئی تھی جس کا مقصد بیرون ممالک میں فرانسیسی اعلی تعلیم اور پیشہ ورانہ تربیتی نظام کو فروغ دینا ہے۔
Qamar Bashir
Minister (Press)
Embassy of Pakistan to France, Paris
0770123323(mobile)
01 45 61 48 98 (office)

Address: 18 Rue Lord Byron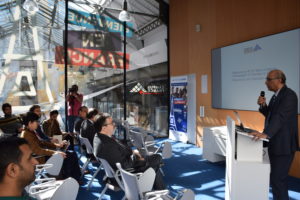 https://www.youtube.com/watch?v=t_ak2sWV18w&feature=share