EMBASSY OF PAKISTAN TO FRANCE
PRESS SECTION
PRESS RELEASE
Paris 21 August 2018.  Pakistani Community of France Celebrated Eid ul Adha with religious sanctity and fervor.
Special arrangements were made at the Embassy of Pakistan to France where community members, officers and staff of the Embassy along with their families offered Eid Prayers in large number.
Ambassador of Pakistan to France Moin ul Haque in his message to the community termed Eid ul Adha as an important festival celebrated in memory of the supreme sacrifice of Prophet Ibrahim (A.S.) which reflected his absolute submission to the will of Allah.
In his message the Ambassador said that Eid is a great opportunity to extend compassion and kindness to the less fortunate and prayed to Almighty Allah to bless all Pakistanis and Muslims around the world with the true happiness and understanding for the great religious act of sacrifice.
The Ambassador also extended his warmest wishes to the Pakistani Community of France and congratulated everyone who performed the Hajj this year.
پاکستانی کمیونیٹی نے فرانس میں عید الالضحی مذہبی جوش و جذبے سے منائی 
 پیرس:  21 اگست 2018: فرانس میں مقیم پاکستانی کمیونٹی نے عید الالضحی مذہبی جوش و جذبے سے منائی۔ 
عید الالضحی کے اس پرمسرت موقع پر سفارت خانہ پاکستان پیرس میں نماز کی ادائیگی کیلئے خصوصی انتظامات کیئے گئے تھے جہاں بڑی تعداد میں پاکستانی کمیونٹی اور سفارت خانہ کے افسران اور عملہ نے اپنے اہل و عیال کے ہمراہ عید کی نماز ادا کی۔ 
سفیر پاکستان جناب معین الحق نے اپنے پیغام میں کہا کہ یہ مذہبی تہوار حضرت ابراہیم علیہ السلام کی اس عظیم قربانی کی یاد میں منایا جاتا ہے جو کہ اللہ رب العزت کی رضا کی تکمیل کیلئے کی گئی تھی۔ 
سفیر پاکستان نے کہا کہ عید کا تہوار ہمیں دوسروں کے ساتھ شفقت اور ہمدردی کرنے کا ایک بہترین موقع فراہم کرتا ہے اور اس کا بنیادی مقصد بھی یہی ہے کہ دنیا کے تمام مسلمان اپنے مال اور اپنی خوشی میں معاشرے کے مستحقین اور ضرورت مند افراد کو اپنے ساتھ شامل کریں تاکہ اس عظیم قربانی کے مقصد کی تکمیل ہو سکے۔
سفیر پاکستان نے اپنے پیغام میں فرانس میں مقیم پاکستانی کمیونٹی اور امسال حج کی ادائیگی کرنے والے تمام مسلمانوں کو مبارک باد پیش کی۔ 
 پیرس:  21 اگست 2018: فرانس میں مقیم پاکستانی کمیونٹی نے عید الالضحی مذہبی جوش و جذبے سے منائی۔ 
عید الالضحی کے اس پرمسرت موقع پر سفارت خانہ پاکستان پیرس میں نماز کی ادائیگی کیلئے خصوصی انتظامات کیئے گئے تھے جہاں بڑی تعداد میں پاکستانی کمیونٹی اور سفارت خانہ کے افسران اور عملہ نے اپنے اہل و عیال کے ہمراہ عید کی نماز ادا کی۔ 
سفیر پاکستان جناب معین الحق نے اپنے پیغام میں کہا کہ یہ مذہبی تہوار حضرت ابراہیم علیہ السلام کی اس عظیم قربانی کی یاد میں منایا جاتا ہے جو کہ اللہ رب العزت کی رضا کی تکمیل کیلئے کی گئی تھی۔ 
سفیر پاکستان نے کہا کہ عید کا تہوار ہمیں دوسروں کے ساتھ شفقت اور ہمدردی کرنے کا ایک بہترین موقع فراہم کرتا ہے اور اس کا بنیادی مقصد بھی یہی ہے کہ دنیا کے تمام مسلمان اپنے مال اور اپنی خوشی میں معاشرے کے مستحقین اور ضرورت مند افراد کو اپنے ساتھ شامل کریں تاکہ اس عظیم قربانی کے مقصد کی تکمیل ہو سکے۔
سفیر پاکستان نے اپنے پیغام میں فرانس میں مقیم پاکستانی کمیونٹی اور امسال حج کی ادائیگی کرنے والے تمام مسلمانوں کو مبارک باد پیش کی۔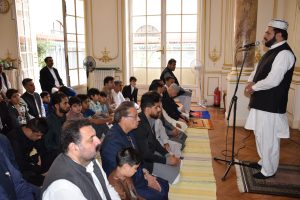 https://youtu.be/etaHr4egY2g