Embassy of Pakistan
(France)
***
Press Release
Run for Kashmir and Roshan Digital Account launched in Paris
Paris; August 19, 2020: An event was held at the Embassy of Pakistan here today to launch Run for Kashmir tele-marathon cellphone application and Roshan Digital Account. Members of Pakistani and Kashmir community in Paris and officers of the embassy attended the event.
While explaining the concept behind the app Charge d'Affaires Mr. M. Amjad Aziz Qazi said that virtual Run for Kashmir is a global humanitarian effort aimed at creating awareness about the atrocities being committed by the Indian occupation forces in the Indian Illegally Occupied Jammu and Kashmir (IIOJK).
He said IIOJK has been under the Indian military siege and its status has unilaterally been changed by the Indian government. Our small steps counted by this app will go a long way in giving our Kashmiri brethren a ray of hope that people living across the world are behind their cause, he added.
Mr. Qazi invited members of the Pakistani and Kashmiri diaspora to form teams and take part in this effort while ensuring following social distancing guidelines in order to slow the spread of Covid-19 virus.
A presentation was also given on the Run for Kashmir app.
While introducing the Roshan Digital Account, Charge d'Affaires said that this would usher in a new era in banking in Pakistan. He regarded it a major initiative of the State Bank of Pakistan, which would provide innovative banking solutions to millions of overseas Pakistanis, allowing them to undertake banking, payment and investment activities in Pakistan.
Mr. Qazi said the Roshan Digital Account will integrate the Pakistani diaspora fully into the Pakistani banking and digital payments system providing them access to all conventional  account services, including funds transfer, bill payments for their families, e-commerce and other payments in Pakistan in addition to investing in stock market and fixed deposit products offered by banks.
Country Manager of National Bank of Pakistan in France, Mr. Mohammad Yaqoob apprised the participants of the account opening and operation details.
—————–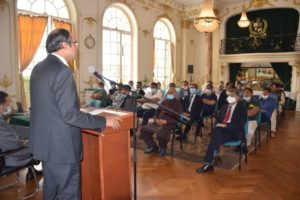 Photo caption:  Charge d'Affaires Mr. M. Amjad Aziz Qazi briefing members of Pakistani and Kashmiri community about Run for Kashmir cellphone app and Roshan Digital Account at Pakistan Embassy Paris, France on August 19, 2020.
Ambassade du Pakistan
France
—-
Communiqué de presse
Lancement du compte numérique 'Run for Kashmir' et Roshan Digital à Paris
Paris, 19 août 2020
Un événement a eu lieu aujourd'hui à l'ambassade du Pakistan pour lancer l'application de télé marathon 'Run for Kashmir' sur téléphone portable et le compte numérique Roshan. Des membres de la communauté pakistanaise et cachemirie à Paris et des officiels de l'ambassade ont assisté à l'événement.
En expliquant le concept de l'application, M. M. Amjad Aziz Qazi a déclaré que la course virtuelle pour le Cachemire est un effort humanitaire mondial visant à sensibiliser aux atrocités commises par les forces d'occupation indiennes dans le Jammu-et-Cachemire illégalement occupé par l'Inde (IIOJK).
Il a déclaré que l'IIOJK était sous le siège militaire indien et que son statut avait été unilatéralement modifié par le gouvernement indien. Nos petits pas comptés par cette application contribueront grandement à donner à nos frères cachemiris une lueur d'espoir que les gens vivant à travers le monde soutiennent leur cause, a-t-il ajouté.
Qazi a invité les membres de la diaspora pakistanaise et cachemirie à former des équipes et à prendre part à cet effort tout en veillant à suivre les directives de distanciation sociale afin de ralentir la propagation du virus Covid-19.
Une présentation a également été faite sur l'application 'Run for Kashmir'.
Lors de la présentation du compte numérique Roshan, M. Charge d'Affaires a déclaré que cela ouvrirait une nouvelle ère dans le domaine bancaire au Pakistan. Il considère qu'il s'agit d'une initiative majeure de la State Bank of Pakistan,  qui fournira des solutions bancaires innovantes à des millions de Pakistanais d'outre-mer, leur permettant d'entreprendre des activités bancaires de paiement et d'investissement au Pakistan.
Qazi a déclaré que le Roshan Digital Account intégrera pleinement la diaspora pakistanaise dans le système bancaire et de paiement numérique pakistanais, leur donnant accès à tous les services de compte conventionnel, y compris le transfert de fonds, le paiement de factures pour leur famille, le commerce électronique et d'autres paiements au Pakistan, en plus d'investir dans les produits boursiers et de dépôt fixe offerts par les banques.
Le directeur de la Banque nationale du Pakistan en France, M. Mohammad Yaqoob, a informé les participants des détails de l'ouverture et du fonctionnement du compte.